Date

Sun, 14 Jul 2019

Entries open

Tue, 30 Apr 2019 11:30 PM ACST

Entries close

Fri, 12 Jul 2019 11:59 PM ACST

Pay online by

Sat, 13 Jul 2019 11:59 PM ACST
---
About
CrossFire Cup - proudly sponsored by Focus Bikes, CrossFit East Adelaide, Zero Friction Cycling and Schwalbe
---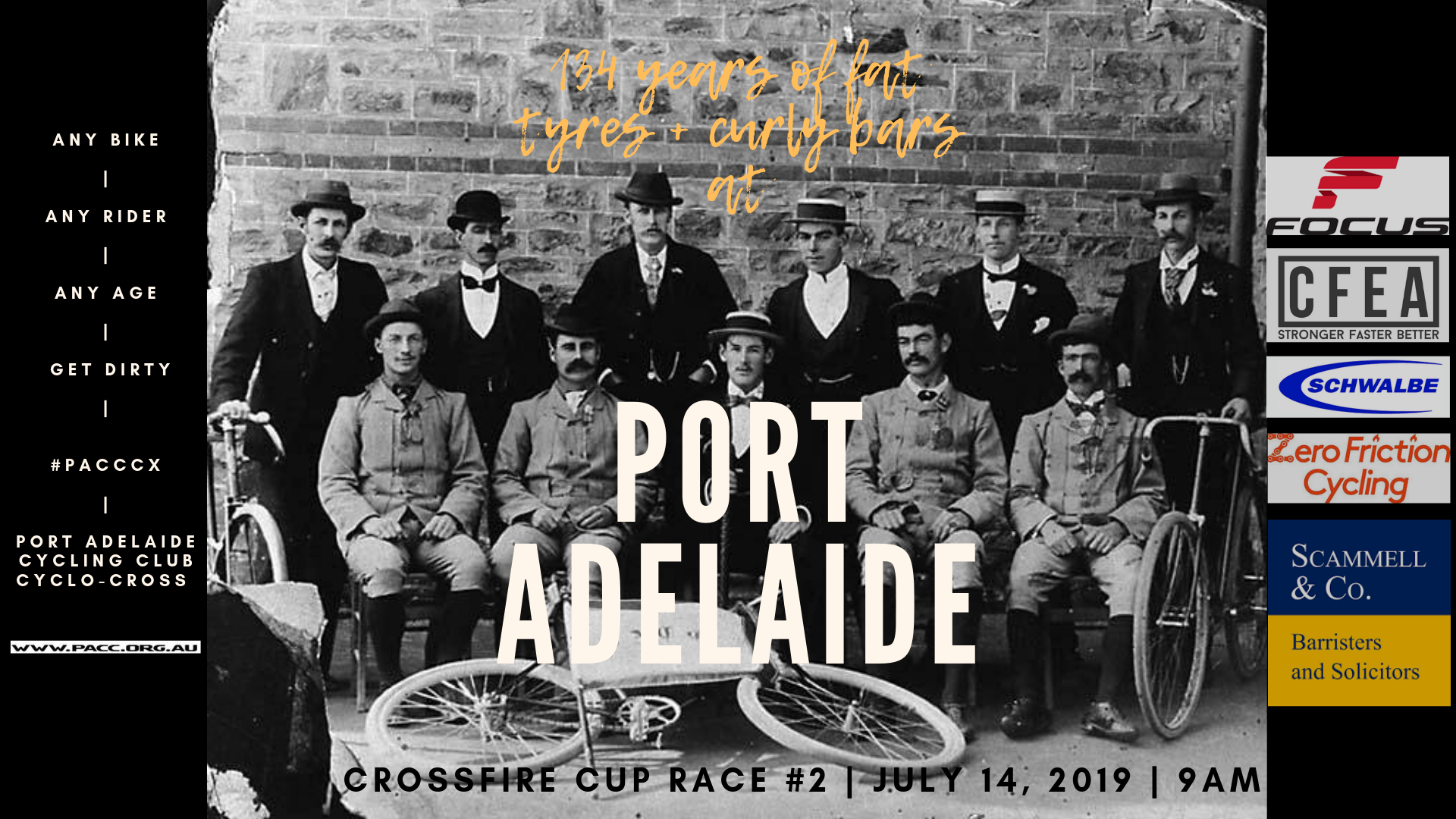 ---
Location
Bower Road, Port Adelaide - click for venue directions Course Map
---
Race Fees
Seniors - $15
Juniors (J15 and under) - free
---
Race Schedule
| Time | Activity |
| --- | --- |
| 7:45 | Course Setup (Volunteers welcome & required - email cx@pacc.org.au ) |
| 9:00 | Registration Opens and Course Opens for Training |
| 9:45 | Little Crossers (3-7 yo) - modified course |
| 9:50 | Juniors (U9, U11, U13s) |
| 10:10 | Non-CX Men, C-Grade Combined Men, U15 - 30 / 30 / 25 mins |
| 10:50 | B-Grade Mens Cyclocross - 35 min |
| 11:35 | A-Grade Womens Cyclocross, B-Grade Womens Combined, C-Grade Womens Combined, U15 - 40 min (35 / 30 / 30 / 25 min) |
| 12:15 | A-Grade Mens Cyclocross - 50 min |

Note: EVENTS ARE SUBJECT TO CHANGE ROUND BY ROUND
---
Eligibility Requirements
Note a current Cycling Australia RACE or MTBA COMPETITION membership is required to ride in these events (or 'Cycling Australia 'Kidz' or MTBA 'Dirtmaster' for Little Crossers), primarily for insurance purposes. Bring your license card or proof of membership with you to sign-on!
If this is your first try at racing you can get a FREE 2-month trial MTBA membership here (only for people who have not held any MTBA membership in the last 3 years).
---
Volunteers
WE <3 VOLUNTEERS! Be there at 7:45am for an excellent chance to win thanks to Zero Friction Cycling and Schwalbe
---
Timing
PACC will be providing live timing for this event. If you have been issued with a PACC Timing Tag previously, please bring it to the event. For riders new to our races, a tag will be available for collection at the Registration Desk, along with your race number.
We are using new race numbers for CX this winter. If you raced in Round 1, remember your number.
Live results will be available - link from results.pacc.org.au
---
Race Day Reminders:
No license, No Race - Riders need a current Cycling Australia or MTBA license. Licenses will be checked at registration, so please bring your license or proof of renewal on the day.

Riders must have signed on 30 minutes before race start and be at the start line 10 minutes before allocated start time for the Commissaire's instructions. Riders will be seeded based on series standings and called up one by one. If you miss your call-up, you will start from the back of the field.

Pits - there will be dedicated pit areas on each course for mechanical assistance. You must enter the pits from the course, and in the direction of the course (which may mean you need to run with your bike to the pit area). Cutting the course or receiving assistance outside the pit areas will result in a DQ.

Announcements – Keep your eye on Facebook and your email for any announcements ahead of race day.
---