Date

Sun, 20 Nov 2022

Entries open

Now

Entries close

Sat, 19 Nov 2022 10:59 PM AWST

Scratch cut-off

Tue, 15 Nov 2022 10:59 PM AWST

Pay online by

Sat, 19 Nov 2022 10:59 PM AWST
---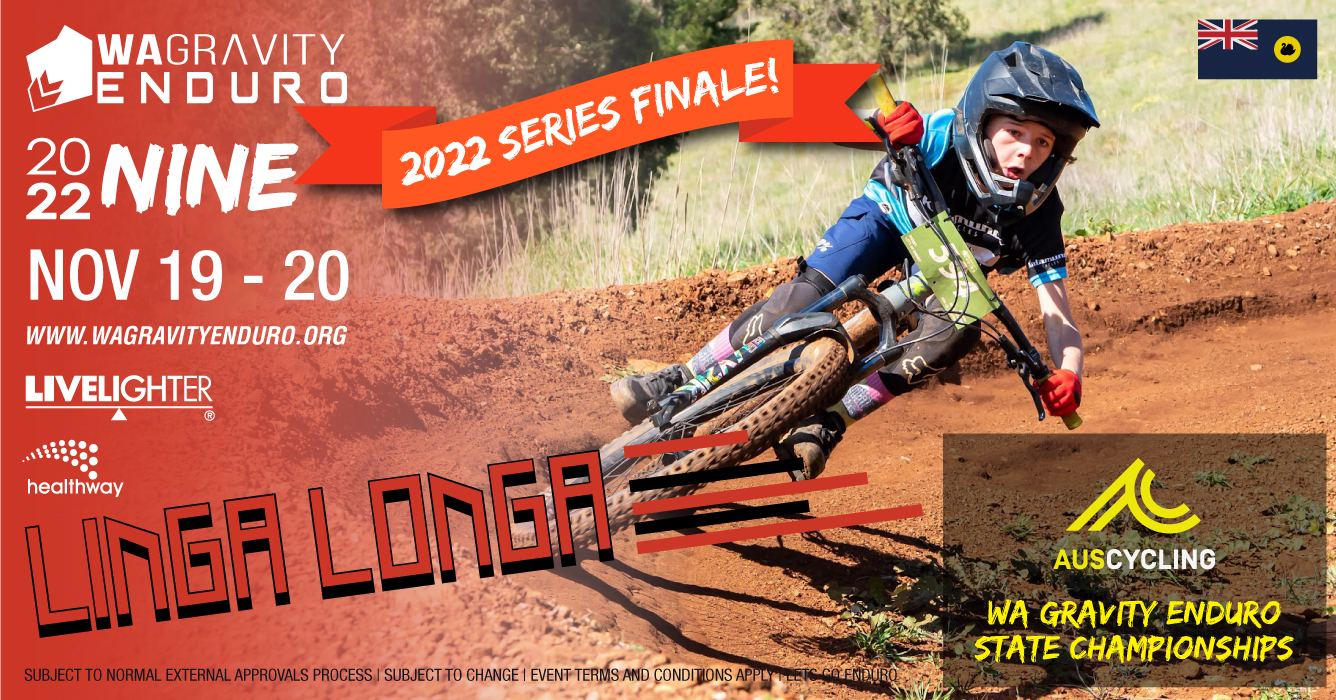 SUNDAY RACE SERIES FINALE!
If you would like to purchase optional Saturday Practise Shuttles, please purchase here https://entryboss.cc/races/12439
---
Important Information
If you are applying a Sponsor discount or 100% discount code, you will be invoiced separately through PayPal for the heavily discounted shuttle component.

WA Gravity Enduro Discount Codes are applicable to Race Entry only and excludes shuttles.

Entries include all Sunday racing shuttles. Shuttle fees collected go to Linga Longa Bike Park (LLBP). WAGE and LLBP cannot be held liable for any damage to bikes during shuttles. Please ensure your bike is secured and clear of other bikes at all times.

Come and have fun! But, if you are not interested in obeying the rules of WA Gravity Enduro or Linga Longa Bike Park, our events are not for you so do not attend.

there are no shuttles operating on Friday.

all shuttle fees collected go to Linga Longa Bike Park.

a $5 entry fee is payable at the gate on Sunday for all spectators arriving Sunday. This allows spectators to jump on a shuttle bus to get to the top of the hill (when available).
AUSCYCLING INSURANCE IS MANDATORY for anyone getting on a bike https://www.auscycling.org.au/membership (Insurance is mandatory for Shadow Riders - Lifestyle Insurance permitted).

FULL FACE HELMETS ARE MANDATORY for anyone getting on a bike, including Shadow Riders.

---
Entry Categories & Race Fees
A MASSIVE 28 CATEGORIES AVAILABLE!

WOMEN
Women U9 (Whippets)
Women U11 (Whippets)
Women U13 (Whippets)
Women U15
Women U17
Women U19
Women 19 - 39 (Warriors)
Women 40 - 49 (Masters)
Women 50+ (Super Masters)
Women (Full Enduro 19+)
Women eBike Open
Women eBike 40+
Women Welcome

MEN
Men U9 (Whippets)
Men U11 (Whippets)
Men U13 (Whippets)
Men U15
Men U17
Men U19
Men 19 - 29 (Weapons)
Men 30 - 39 (Warriors)
Men 40 - 49 (Masters)
Men 50 - 59 (Super Masters)
Men 60+ (Grand Masters)
Men (Full Enduro 19+)
Men eBike Open
Men eBike 40+
Men Welcome

OTHER
Shadow Rider (a parent/guardian following a junior rider on course www.wagravityenduro.org/whippet-shadows)

---
Entries Close
Entries often sell-out before close so please enter early to avoid disappointment.
- Early bird entry until midnight Tuesday before the event weekend.
- Late Entry $15 if places still available after Tuesday, with hard close Friday 9pm before event weekend

Entered and can't make it, feel unwell or suffered an injury or mechanical?
- Use the Scratch button in EntryBoss for an automated 100% refund if done before Tuesday midnight before an event.
- If you cannot make the event for any other reason after Tuesday midnight before an event weekend, you can transfer your entry to a future event or accept a 50% monetary refund.
- Any injury or mechanical during racing on Saturday or Sunday of an event does not entitle any refund.

---
Upcoming Series Dates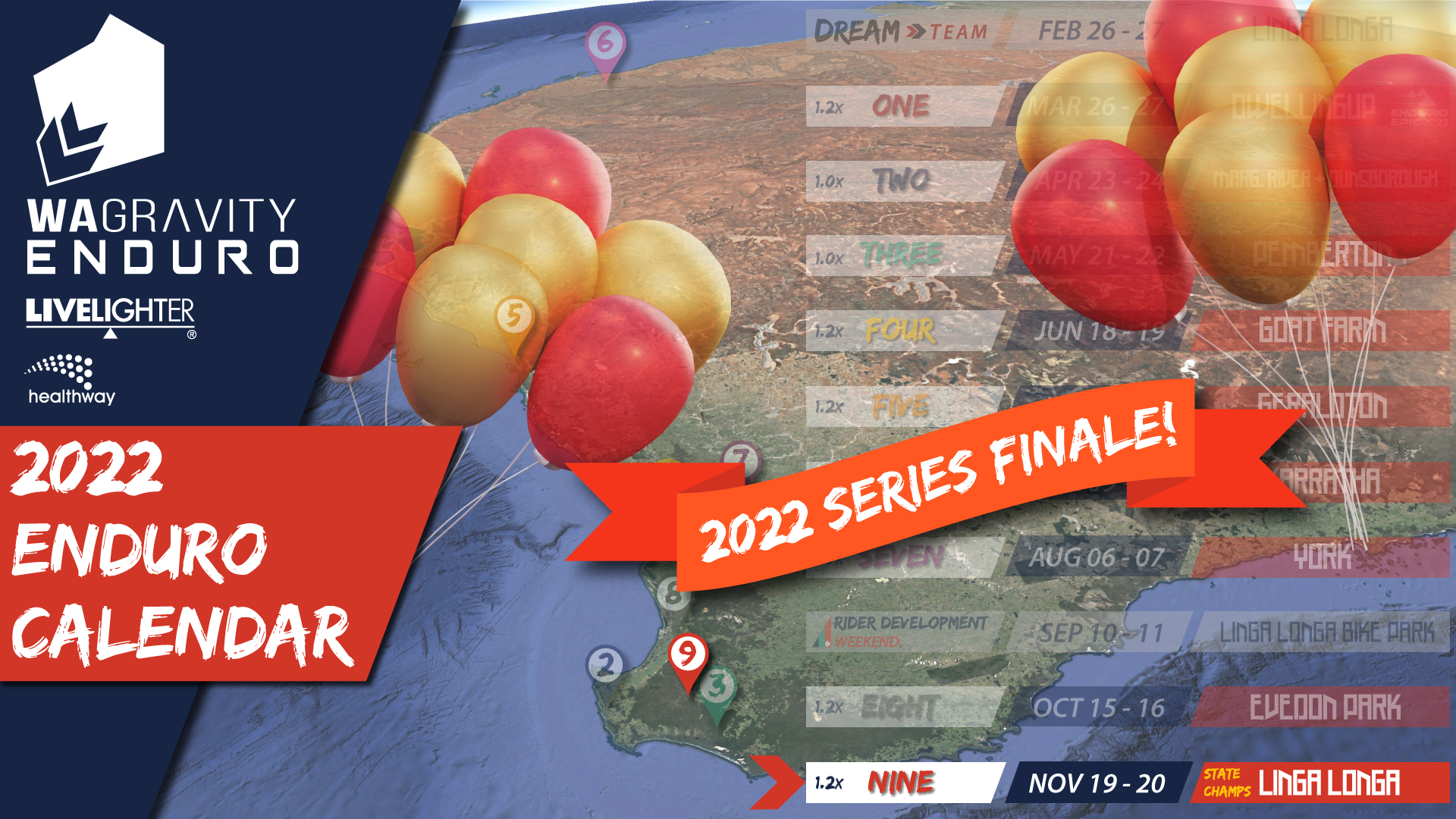 More Info
f facebook.com/wagravityenduro
i instagram.com/wagravityenduro
---
COVID-19 Notice
We are taking COVID-19 restrictions seriously.
By entering this event, you agree to the following:
you agree to follow Government COVID recommendations applicable to your jurisdiction
you agree to follow the Event's COVID directives
you agree that you may be asked to leave the event for non-compliance
we appreciate your cooperation, our intention is simply to run a safe event.