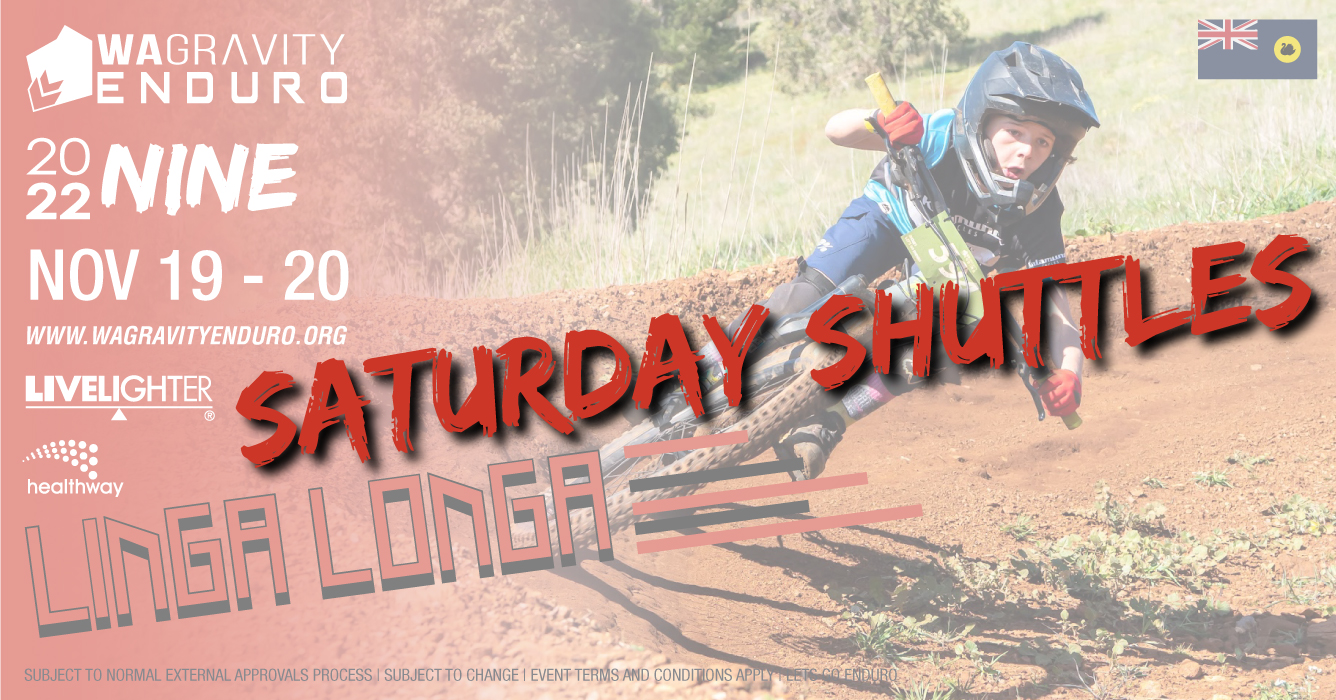 LINGA LONGA BIKE PARK SATURDAY SHUTTLES! Get the most out of the awesome trails at the Park and lock in some Saturday shuttles! Operating from 8:30am - 4pm.
THIS ENTRY FORM IS TO PURCHASE SATURDAY SHUTTLES ONLY.
CAMPING ENTRY AND PARKING FEES ARE PAYABLE AT THE GATE
Spectators arriving Sunday only are subject to a $5 per person entry fee. Toilets, water, marshals, fuel, licenses, staff, insurances etc are unfortunately not free - thank you for supporting us! Spectators are welcome to get a free lift to the top of the hill where capacity permits.

---
Important Information
---
Entry Categories & Race Fees
Categories available:

NOT LINGA LONGA BIKE PARK MEMBERS
WAGE Competitor Under 16 | $70 full day
WAGE Competitor 16+ | $80 full day
WAGE Competitor | $45 afternoon only after 1pm

LINGA LONGA BIKE PARK MEMBERS
WAGE Competitor Under 16 | $60 full day
WAGE Competitor 16+ | $70 full day
WAGE Competitor | $40 afternoon only after 1pm
NOTE: if you are selecting LLBP Member pricing, you must enter your LLBP Membership ID (which is the same as your Auscycling ID) when prompted. Incorrect or false information will incur a $20 administrative fee.

All weekend:
- Cafe serving awesome food and drinks available for purchases all weekend
- Bunted and signposted course, with amazing course marshals looking after you
- Access to St John Medical Services, toilets, water and showers

---
Entries Close
Entries often sell-out before close so please enter early to avoid disappointment.
- Early bird entry until midnight Tuesday before the event weekend.
- Late Entry $15 if places still available after Tuesday, with hard close Friday 9pm before event weekend

Entered and can't make it? Use the Scratch button in EntryBoss for an automated refund. There is a cut-off for scratching date/time so please keep an eye on this if you are a risk of not being able to race. Also, once you scratch, you will need the help of an admin if you need to re-enter (and you are back in the queue like everyone else if entries are pumping).
---
2022 Series Dates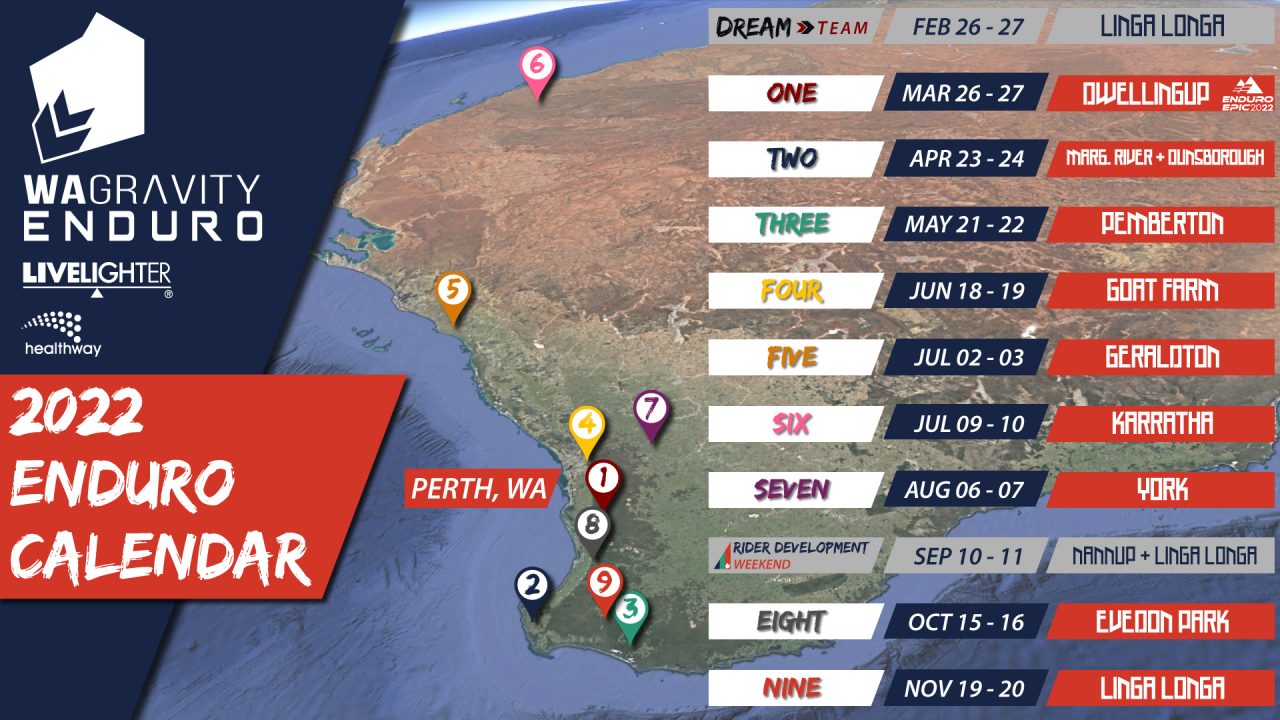 On the hunt for WA's best Mountain Biker, we head to as many locations as possible to provide the best opportunities for everyone to participate. We work with local Clubs and Government representatives to prioritise safety without compromising on racing excitement.
WA Gravity Enduro donates to local trail custodians, works with local businesses, promotes tourism opportunities, engages with State and Local Governments, private landowners and Cycling Bodies to discover, develop and promote Mountain Biking opportunities in WA.
Be part of the WAGE Crew!
Are you a parent or spectator or a competitor and would like to help out? Our events can only be as good as our people! Head to https://forms.gle/4WanhqNqmFR3uGZR9 to register your assistance and we will happily provide you with a discount depending on experience and role, or chat with us claire@wagravityenduro.org to learn more.
More Info
f facebook.com/wagravityenduro
i instagram.com/wagravityenduro
---