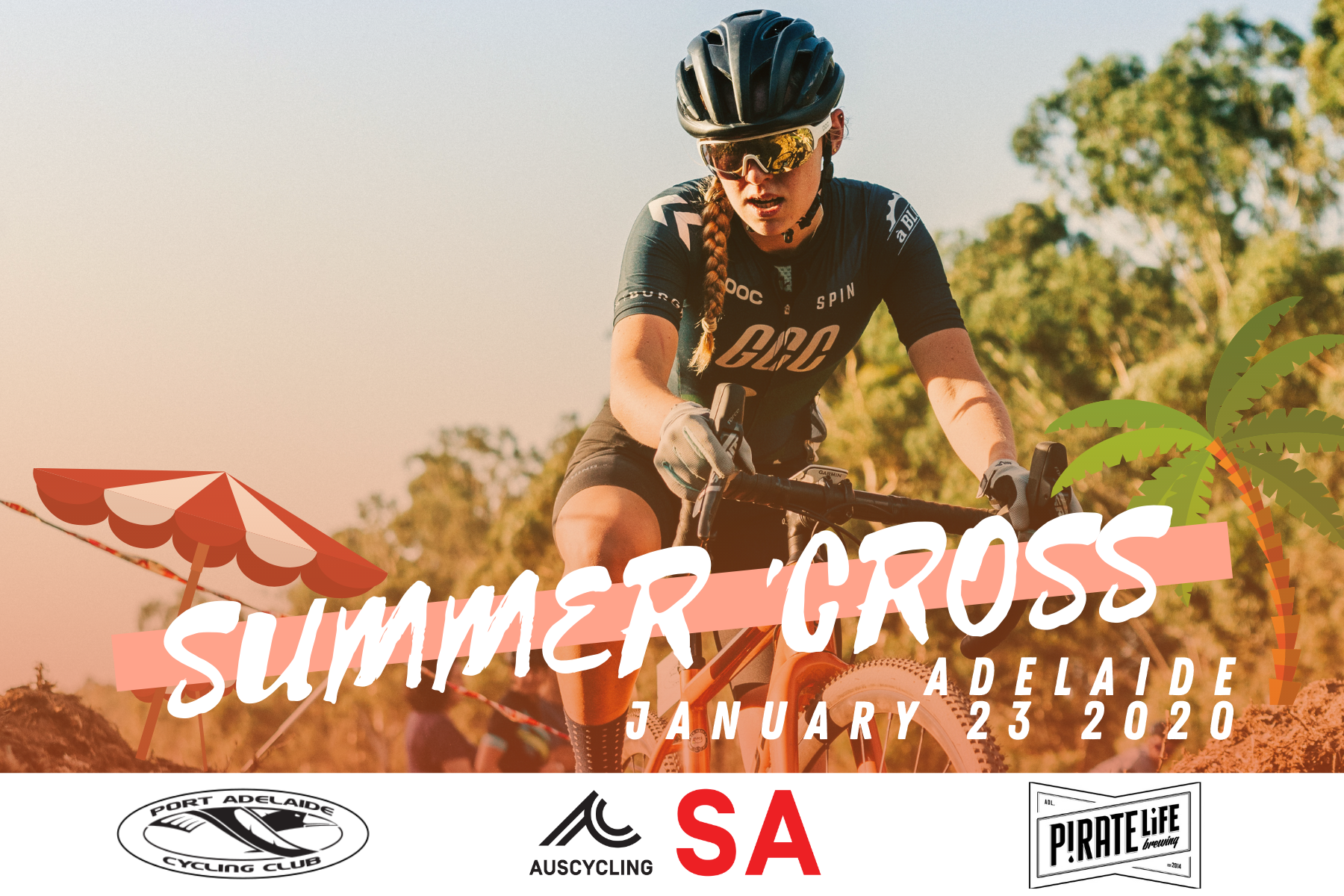 About
Take the day off, watch the Festival of Cycling NRS / NWRS Stage 3 races and head down to North Adelaide for some fast and furious cyclo-cross racing - suitable for riders of all abilities and aged 3-70+
The event is proudly part of the 2021 Santos Festival of Cycling - and even though there's no Tour Down Under, this year, there's still plenty to see and do!
Keep up to date on our website: https://www.pacc.org.au/events Or via the Event Facebook page at: https://fb.me/e/gMubmfcAM
---
Location
Mary Lee Park (Park 27B), North Adelaide
---
Timing
ALL RIDERS MUST BRING THEIR PACC TIMING CHIP AND RACE NUMBER IF THEY HAVE BEEN PREVIOUSLY ISSUED WITH ONE. Note: Numbers are a new series, handed to participants at Xmas Xross (not CSA, Norwood or PACC Time Trial numbers!) Lost yours? Add a replacement at checkout.
---
Race Fees
Seniors - $15
Juniors (J15 and under) - free!
There will be no on the day nominations
---
COVID-19 Notice
This event has strict COVID safety requirements. By entering this session, you agree to the following:
You will check-in to the venue using the QR code provided
You will not attend if you have had flu-like symptoms in the past 14 days
You will follow direction of the coach and other volunteers
It is strongly recommended that you download the CovidSafe App
Please DO NOT enter or come to the event unless you intend to fully comply with these requirements.
---
Proposed schedule
Schedule is a guide only and will be updated once final entries are confirmed.
| Time | Activity |
| --- | --- |
| 4:00pm | Course Setup from 4:00pm (Volunteers needed!) |
| 5:30 - 7:30pm | Sign-on and registration is open. |
| 5:30 - 6:30pm | Practice on course with number on after you have signed-in. |
| 6:45 - 7:10pm | B-Women, C-Women, J17 Women, C-Men, J17 Men |
| 7:20 - 7:50 pm | CX B-Men |
| 7:55 - 8:30pm | CX A Men, CX A-Women, Open Men |
| 8:30--done | All hands on deck to tear-down the course before it gets properly dark at 9:01pm please! |
---
Grading advice
SENIORS: Your chosen grade is dependent on both rider ability and your bike type. A drop ('Curly") bar bike (eg road, touring or CX bike) is required to contest any category with 'CX' in its title. If you have a MTB or Flat-bar hybrid / roadie please choose between Open Men or C-Men (for people identifying as gents) or B-Women and C-Women (for people identifying as ladeez). If you have a CX/Road bike you can contest any grade based upon your ability except Open.
JUNIORS: Junior grading will be subject to age-groups and ability. Note Little Xers is for the youngest children or kids new to cycling not capable of completing the full course on their own and can include balance bikes, bikes with training wheels, tricycles and those new to a pedal bike and a carer is welcome to accompany them on foot around the shortened course. Other grades will be marshalled with club volunteers and carers are not to accompany riders on course. We anticipate running J17 with C grade - but this will be determined by entry numbers.
If you are new to racing CX, but race bikes elsewhere please put your current criterium or road or MTB grade in the handicapping remarks. If you are completely new to any form of racing, we recommend you start in C-Grade unless you know someone you are comparable with and wish to race with them. Grades will be mixed on the course together, but wave-started and timed separately.
Grades available are:
*CX A-Women
*CX A-Men
*Open Men
*CX B-Men
*B-Women
*C-Women
*C-Men
*J17 Men *J 17 Women *A-Juniors (CANCELLED DUE TO HEAT) *B-Juniors (CANCELLED DUE TO HEAT) *Little Xers (CANCELLED DUE TO HEAT)
---
Licencing Requirements
Note a current AusCycling All-Discipline or Off-Road license is required to ride these events (or a Cycling Australia / MTBA equivalent), primarily for insurance purposes. Bring your license card / digital membership with you to sign-on!
If this is your first try at racing you can get a FREE 4 week trial membership here (only for people who have not held a CA or MTBA membership in the last 3 years).
---
Reminders
No license, No Race - Riders need a current license. Licenses will be checked at registration, so please bring your license or phone with digital license downloaded when you sign on.

All riders must have signed on 1/2 hour before your allocated race start time.

All riders agree to sign in to the venue using the QR code provided.

Announcements – Keep your eye on Facebook and your email for any announcements ahead of race day.
---