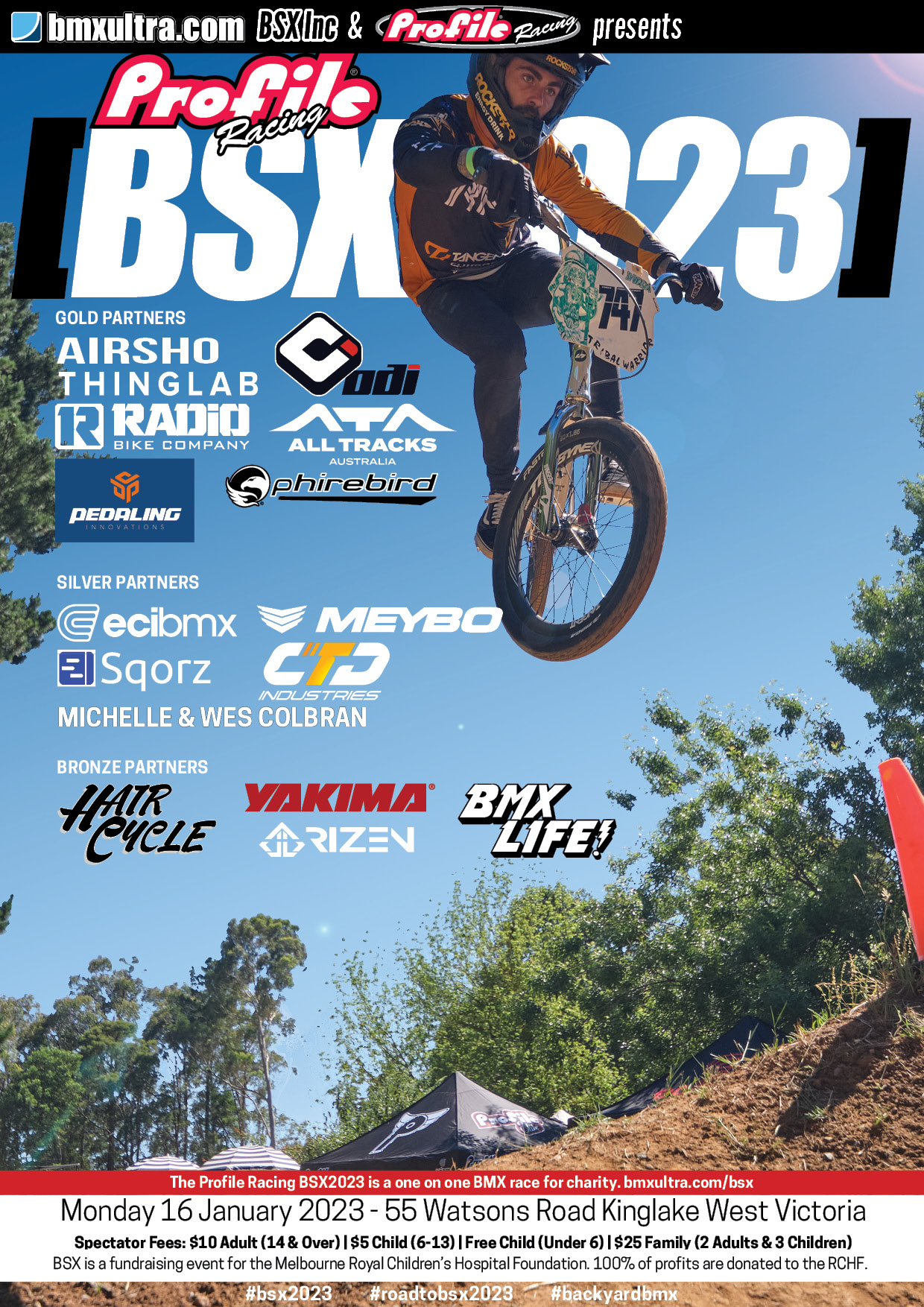 ---
ABOUT
The Profile Racing BSX2023 will be a special event, marking the 1*th anniversary of the backyard BMX bash.
BSX is flat out fun! It's a very different type of BMX race and it's all for charity. A head to head elimination race on a two man track with fund raising activities through the day to raise money for the Royal Children's Hospital. It's the most fun you can have on two wheels!
BSX is short for Bicycle Supercross, it's a stripped back variation of BMX racing. Riders compete against each other in a one-on-one elimination style format. Instead of physical strength riders depend on skills and finesse. On a track like this even the smallest mistakes can be costly. As much as it's challenging and fun for riders, it's also designed for spectators and more particularly to raise money for the Royal Children's Hospital Foundation.
All profits raised from gate takings, auctions, raffles and merchandise sales go to the Royal Children's Hospital.
---
RACE SCHEDULE & CLASSES
Session
Practice
Racing
Classes
Prizes
Block 1
10:00am - 11:55am
12:00pm - 2:00pm
Open Men,
Open Women,
30+ Open Wheel Men,
30+ Open Wheel Women
Cash
1st - 4th
Block 2
2:00pm - 3:25pm
3:30pm - 5:00pm
8-13 Boys,
8-13 Girls,
45+ Open Wheel
Trophies
1st - 4th
---
ENTRY FEE & PRIZE MONEY
Entry Fee: All riders $30 per class (all proceeds to Royal Children's Hospital)
Prize Money: Max $1000 for Open, $500 for other classes (based on entry numbers)
---
WHERE
55 Watsons Road, Kinglake West, Victoria.
There are road signs in the area that should keep you on the right track.
Barry Nobles and Caroline Buchanan enjoying BSX2013
---
FAQ
WHO CAN COMPETE AT BSX?
It's a common misconception that BSX is an invite only event. This is not the case, everyone is welcome to join in on the fun and festivities.
---
WHAT ARE THE RULES? / HOW DOES THE ELIMINATION WORK?
Please familiarise yourself with all the rules here https://bmxultra.com/bsx/
---
WHAT TO BRING
BSX is a flat pedal race, so bring your flat pedals and appropriate shoes.
Full race gear is required as per normal.
Bring your deck chairs and shade tent, to keep you comfortable and sheltered.
Bring lots of money for raffles, auctions, and the BBQ.
Be ready for all sorts of weather conditions, you never know how it might end up on the day. (Hat, Sunscreen, umbrella, ski jacket, you name it)
---
BBQ BY KINGLAKE WEST CFA
The Kinglake West CFA are supplying a BBQ and drinks. They cook a mean BBQ and have great prices. Buying your food from them also helps the local community.
---
WANT TO GET INVOLVED?
Volunteer, donate, become an event partner, compete, spectate whatever you have in mind, if you have a question for us about the event please shoot us a short message through the contact us page.
---
BSX IS ALSO AN OFFICIAL BMX CLUB!
Although we don't hold regular races or gates sessions like normal clubs you can join the BSX club. We signed up as a club primarily to reduce our event over heads, especially insurance, in order to raise even more money for the Royal Children's Hospital. While we don't run regular events like a "normal" BMX club we do have a lot of social rides. Keep an eye out on our Facebook page for updates.
---
MORE INFO / CONTACT
Web: https://bmxultra.com/bsx/
Facebook: facebook here
Contact us: contact us page