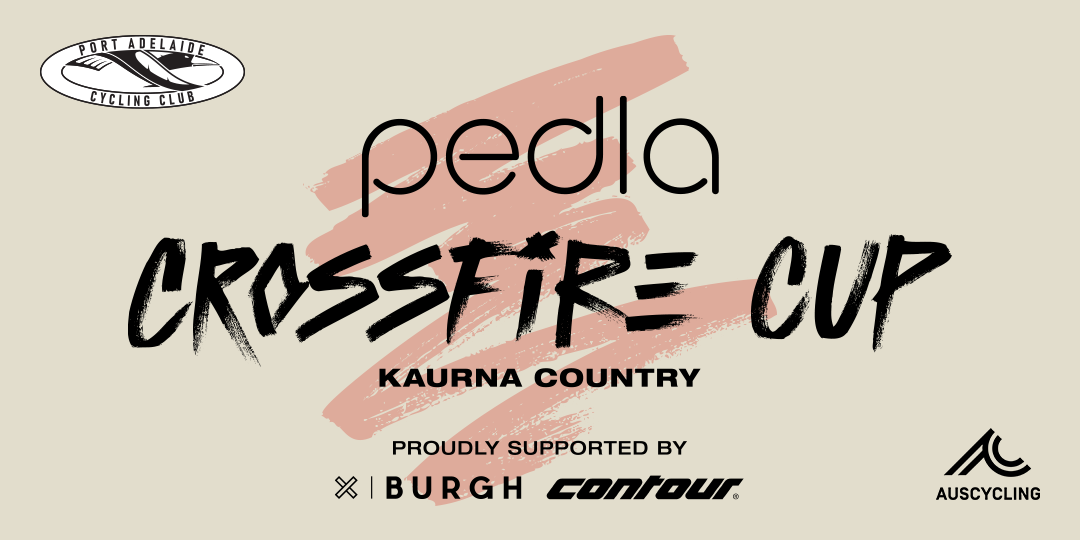 ---
Acknowledgement of Country
Port Adelaide Cycling Club acknowledges that we ride and race on the traditional lands of the Kaurna people of the Adelaide Plains and pays respects to Elders past and present and recognise and respect their cultural heritage, beliefs and relationship with the land. We acknowledge that they are of continuing importance to the Kaurna people living today.
---
Introduction
Port Adelaide Cycling Club proudly presents the Pedla CrossFire Cup 2023! We are looking forward to returning after a break from CX and mixing it up a bit this year. On the back of the successful "Gritty City Critty" we have added a new category "Chonklocross" for those with fat tyres. We also have a new teams category, and new sponsors on board for 2023. Bring on the mud!
The Series Guide is available here
---
Location
King Rodney Park / Ityamai-itpina (Park 15) Directions Map: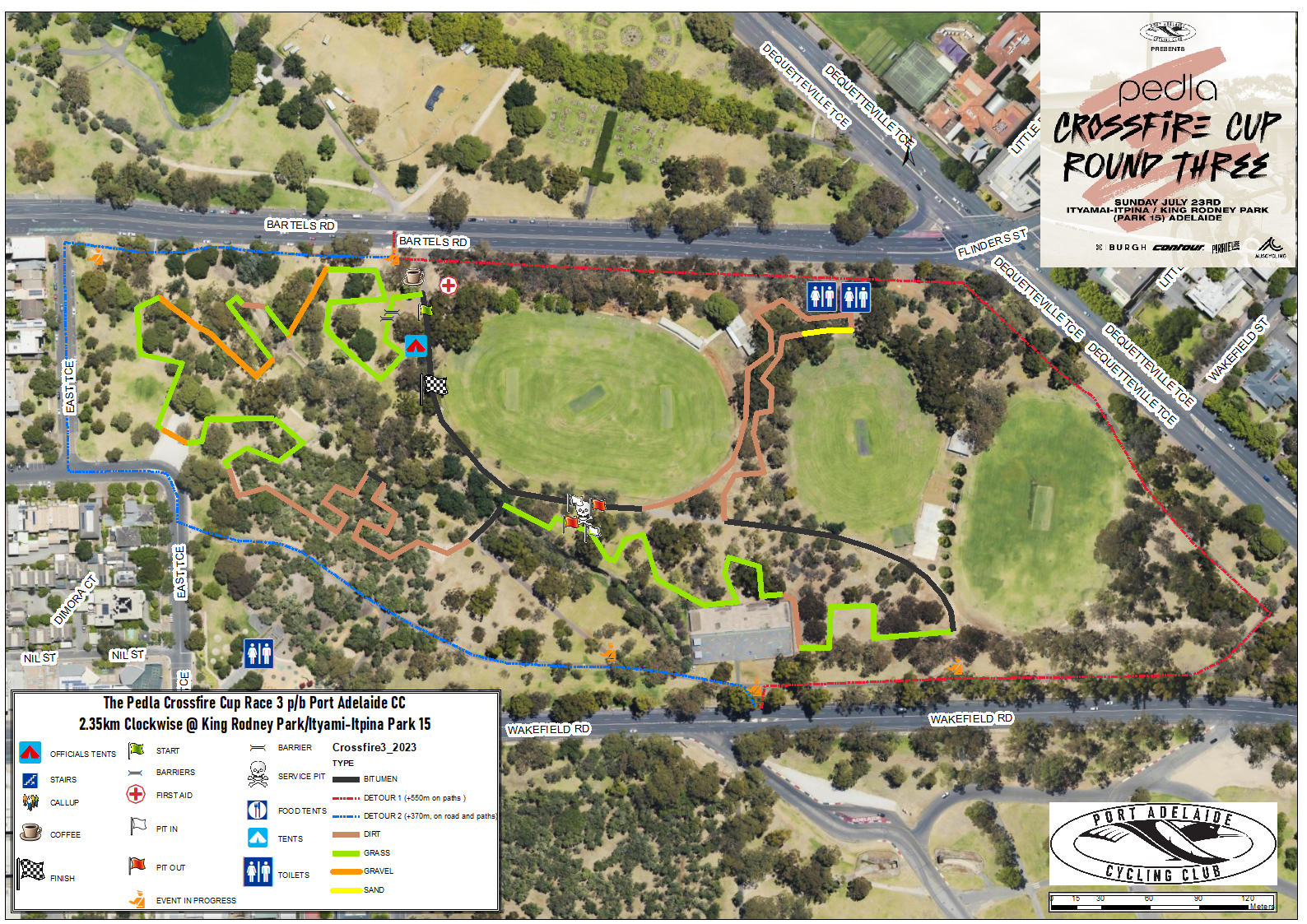 BIGGER Map Link - opens in new page
---
Race Fees
| Category | Early Bird | Regular |
| --- | --- | --- |
| Seniors | $20 | $25 |
| Juniors (J17 and under | free | $5 |
| Little Crossers | free | free |
Early Bird registration closes 2 weeks before race day
---
Race Schedule
| Time | Activity |
| --- | --- |
| 08:00 | Course Setup (Volunteers welcome & required - email cx@pacc.org.au ) |
| 09:00 | Registration Opens and Course Opens for Practice |
| 10:00 | C-Grade Combined Men - 30 mins |
| 10:40 | Chonklocross Men / Open Men - 40 mins / 30 mins |
| 11:30 | Little Crossers (2-7 yo) - modified course |
| 11:40 | Junior A and Junior B Grade - 30 / 20 mins (course may be modified) |
| 12:10 | Course Practice 1 lap only |
| 12:20 | A Women, B Women, Chonklocross Women / C Women, U17 Women, Open Women - 50 / 40 / 40 / 30 / 30 / 30 mins |
| 1:15 | A Men / B Men / U17 Men - 55 / 45 / 30 min |
| 2:10 | All hands on deck - packup and presentations |

Note: Event schedules are subject to change round by round
---
Equipment
| Grade | Bike | Tyres | Bars | Gears |
| --- | --- | --- | --- | --- |
| Men & Women - A, B, C | CX / Gravel | 35mm* max | Drop / Curly | Any |
| Men & Women - Chonklocross | Any | 38mm* min | Drop / Curly | Any |
| Men & Women - Open | Any | Any | Any | Any |
| U17 / Junior A & B | Any | Any | Any | Any |
| Little Crossers | Any | Any | Any | Any |
*As branded on the tyre.
Refer Series Guide for full details. All bikes must be human powered, have two functioning brakes and bar ends must be capped.
---
Racing multiple categories
If you intend to race in both a graded event (i.e. A, B or C Grade) and Chonklocross or Open, please enter the graded event here and add to the Comments that you wish to do Chonklocross . We will add you to the start list for both events and send you an invoice for the second race.
---
Eligibility Requirements
A current AusCycling Race membership (Off-Road or All Discipline) is required to ride in these events. Please download your membership card to show the volunteers at sign on!
If this is your first try at racing you can get a FREE four week trial membership here (only for people who have not held any membership in the last 3 years). Please do this before entering as we need your membership number as part of your entry.
Need a membership? Explore all the membership options with PACC here.
---
Timing and Race Numbers
PACC will be providing live timing for this event. If you have been issued with a PACC Timing Tag previously, please bring it to the event. For riders new to our races, a tag will be available for collection at the Registration Desk, along with your race number. If you have lost or damaged yours, please purchase one when you register.
Live results will be available during the event - start from here.
If you entered Round 1 of the Series, you will have been issued shiny NEW yellow race numbers. These are what you will use at all future Port Adelaide CC events unless unless specified. If you didn't do Round 1, numbers will be assigned to you and provided at sign on. Replacement numbers for those who have lost them already will will be available at a cost from Round 2.
---
Grading advice
SENIORS: Separate grades are available for men and women, but may be raced at the same time. Non-binary riders, please pick the grade that you feel is most appropriate. Place yourself in the grade you would normally race CX, MTB or criterium races. Please leave notes as to your current race grades in the handicapping remarks if you are new to CX. Your category may be adjusted, so please check EntryBoss after entries have closed. Completely new to racing? We recommend you start in C Grade or Open unless you know someone you are comparable with and wish to race with them. Grades may be mixed on the course, but will be wave started and timed separately. Still need help? email us.
JUNIORS: U17 grades are available for men and women. Junior A and B is subject to age-groups and ability. Note Little Xers is for the youngest children or kids new to cycling not capable of completing the full course on their own and can include balance bikes, bikes with training wheels, tricycles and those new to a pedal bike and a carer is welcome to accompany them around the shortened course on foot. Other grades will be marshaled with club volunteers and carers are not to accompany riders on course.
---
Sign On
Sign-on will be contactless. Please visit the rego desk and have your name checked off before going on course for the the main practice session. Ensure you have your race number and timing tag on before entering the course.
Riders must have signed on at the rego desk more than 30 minutes before race start so we know you're at the venue. Riders must be ready to start and congregating at the muster point after the finish line 15 minutes before the allocated race start time for the Commissaire's instructions. Riders will be seeded based on current Series Points, followed by Time of Entry. Riders will be called up one by one to the starting grid at ~5 minutes before the scheduled start. If you miss your call-up, you will start from the back of the field.
---
Food
Yes, there's food and drinks! Vendors TBA
---
Race Day Reminders:
No license, No Race - Riders need a current license. Licenses may be checked at registration, so please bring your license or proof of renewal on the day.

No race number, or timing tag, no race.

Pits - there will be dedicated pit areas on each course for mechanical assistance. You must enter the pits from the course, and in the direction of the course (which may mean you need to run with your bike to the pit area). Cutting the course or receiving assistance outside the pit areas will result in a DQ.

Announcements – Keep your eye on your emails for any important announcements ahead of race day.

Respect the venue - we're racing in a natural area, warm up in areas to minimise damage to the vegetation.

Covid-19 - consider your actions and how they impact upon others. Stay home if you're sick. Give yourself a chance to recover.
---
Volunteers
WE <3 VOLUNTEERS! Be there at 08:00 am for an excellent chance to win prizes!
---
Social Media
Follow us for events, updates, results and photos
Web: www.pacc.org.au
Hashtags - #pacc #portadelcc #weheartcx #crossfire23
Instagram - @portadelcc
Facebook - facebook.com/PortAdelCC