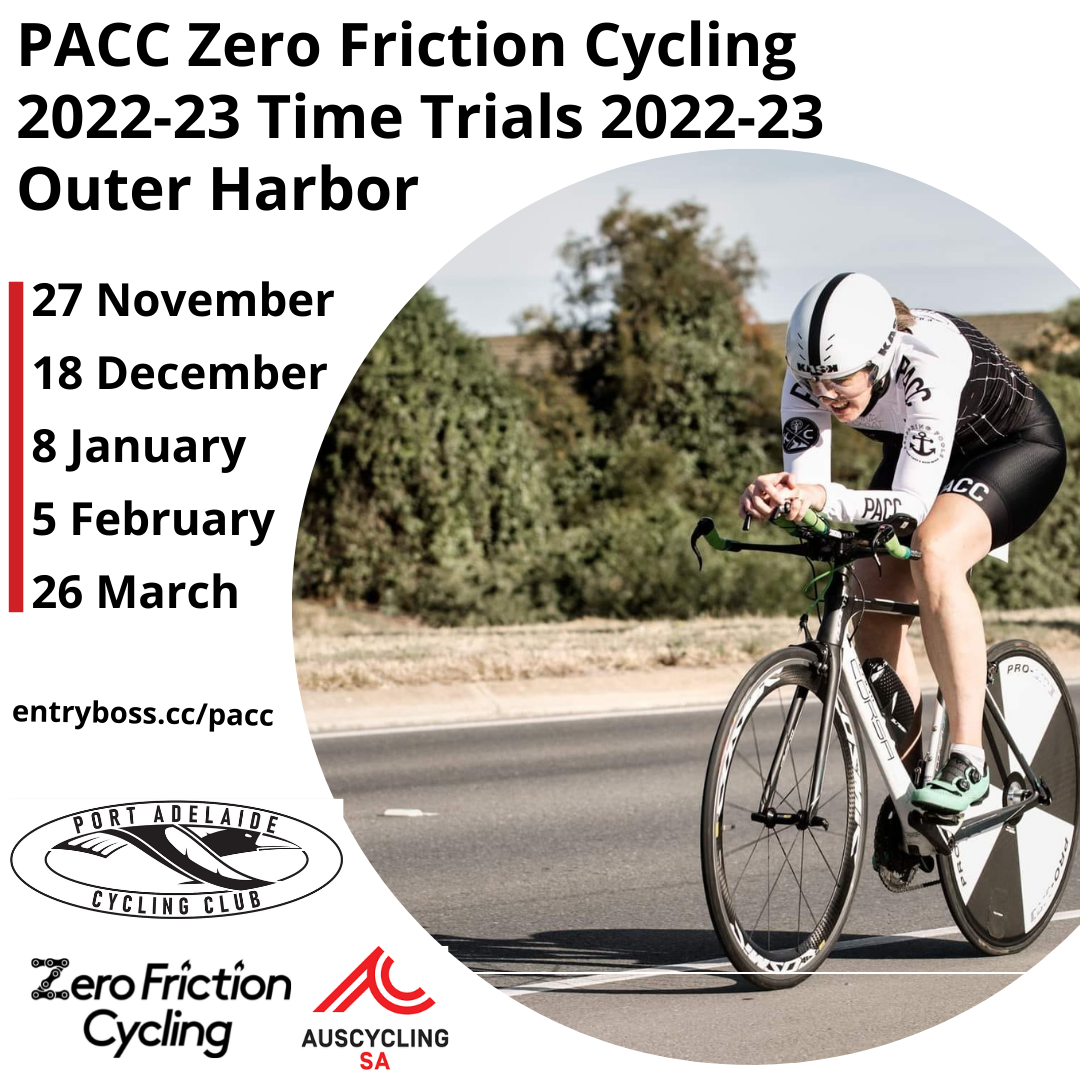 Series Dates
Races will be held on:
---
Race Details
Race Details All time trials are held on Sunday mornings from 7:30 am from Osborne Skate Park on Victoria Road, Outer Harbor. All riders will have signed on by 7:15am in time for rider briefing. Course map is available here: https://www.strava.com/routes/22903474
Riders will be seeded and start times will be posted the evening prior to the event. There will be no on the day entries. Seeding will be based on previous events - if you have not done a PACC TT before, place an estimated speed in the comments field when entering.
All riders must have a functioning rear read light. No light, no race!
---
Junior Riders
Parents are asked to be familiar with the AusCycling Junior Policy, particularly in regard to equipment and race distance: https://assets.auscycling.org.au/s3fs-public/2021-07/junior-riding-up-policy-_-final.pdf?_ACahJMSeK9EhpCIL_FFZgf0dE71MUrS=
A modified course will be available for Junior Riders based on AusCycling's Junior Policy. Assistance will be required from parents / carers to allow this to occur. Please email secretary@pacc.org.au with rider details (name and category) and acknowledgement of information re junior riders prior to registering.
U13 and U15 - 8km - sign on at the Osborne Skate Park then make your way to the alternate start point at the roundabout at Harrold Street and Lady Gowrie Drive. Note that this will take time, so sign on early and meet the Commissaire at the start line. Parents are welcome (encouraged) to follow riders on bike. A Commissaire will follow the final rider by vehicle for the duration of the event.
U17 riders - PACC has been granted an exemption for U17 riders to ride the full distance. No riding up waivers are required.
Parents - please read above and email before registering your junior rider!
---
Licences
All riders must hold a AusCycling Race (All Discipline) or Lifestyle membership. Please ensure this membership number is the one used when entering the event so that online membership checks can be undertaken.
---
Timing
PACC will be providing live timing for this event. If you have been issued with a PACC Timing Tag previously, please bring it along. For riders new to our races, a tag will be available for collection at the Registration Desk, along with your race number. Live results will be available from www.results.pacc.org.au/2023/
---
Race Numbers
A race number will be issued to each rider at sign on. Please return this at the end of your race.
---
Race Fees
Individual races for $20 each ($15 for J17 and younger).
Entries are capped at 80 riders total.
Port Adelaide Members who are current State Champions will be provided with free entry to one race per season. Please email us at committee@pacc.org.au to get your name added to the start list!
Zero Friction Cycling Series
Once again, we are proud to have Zero Friction Cycling as sponsor for this event. Age adjusted results will be published after each event. Prizes will be awarded to the top 5 men and women at the completion of the series. The series results will consist of your best three results. Results available here