---
WILLUNGA KITE - ROUND 2 - 15/16 MAY
IMPORTANT RULES ABOUT THIS EVENT:
Numbers are very limited for this event due to transport constraints so sign up asap to avoid disappointment. Strictly no late entries.
Strictly full face helmets only with no detachable chin guard. Full list of clothing and protection requirements here https://insideline.com.au/details/#10
---
LOCATION
Ashley Hills Estate, 52 Louds Hill Road Willunga SA
If it is your first time going to Ashley Hills Estate, be mindful that the event village is on Louds Hill Rd, Willunga just a few hundred metres from the Hahn Rd intersection. Some maps apps may take you to the top of Louds Hill Rd and you don't want to end up there.
Parking: Within the estate, with overflow along Louds Hill Road. (make sure to avoid the bus turnaround zone!)
click here for the location map
---
TRACK DESCRIPTION & COURSE PREVIEW VIDEO
A fast, open and rocky track.. Make sure to pack you armour for this event as although it looks like an easy 'grass track', the combination of rock gardens and high speed have a tendency to catch riders out.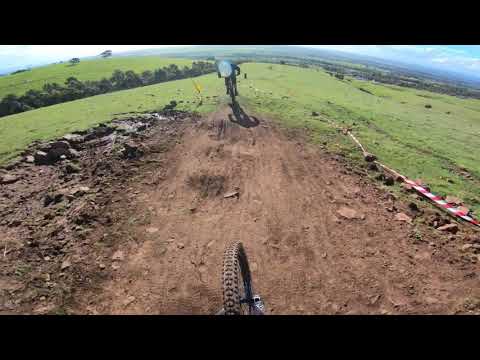 CLICK THE PICTURE TO WATCH CAINS PRACTICE FROM 2018
---
DOWNHILL COURSE RECON / GUIDED TRACK WALK
Head for the hills will be hosting a downhill course recon on Saturday May 9 for $25. Booking is essential. Sign up here https://headforthehills.net.au/race-support/downhill/course-recon/
A free guided track walk with Tyson from Head For the Hills will be held on Saturday practice morning, any riders welcome. Meet at the caravan at 8.30.
---
VOLUNTEERS
Please sign up on our volunteer platform here: http://help.insideline.com.au/
---
CLUB
Please be aware that as members and participants at an Inside Line event, it is expected that all competitors conduct themselves in a manner according to our club code of conduct.
The code applies to all people associated with our series. Inside Line wishes to operate in a nondiscriminatory environment where people show respect for others and their property. Please line up nicely at the back of the line, you will all get plenty of runs in.
We also operate in an environment free from harassment of any kind. We are a child-safe club and take our provision of a family friendly environment very seriously. All individuals are expected to show a commitment to Inside Line policies, rules, procedures, guidelines and agreements.
Unacceptable Behaviour
'Sledging' other athletes, officials or event organisers.
Excessive use of alcohol, acting in a way that becomes a public nuisance, or creating a public disturbance.
Damaging another person's property or depriving them of that property
Not stopping or slowing down when there is a clear issue on the track such as a downed rider to the side of the track
Let's be safe, enjoy riding our bikes and have some fun! :-)
---
RACE FEES
Elite / Under 19 Entry : $80

Regular Entry : $70

Ebike: $55 (Min age 18)

Second Category Entry : $25 (Ebike $40)
Scratching: Need to withdrawal from the event? EntryBoss enables a self-serve refund if things change and you can't make the event. Please use the 'Scratch' button to trigger a refund and automatically remove yourself from the startlist, (Please note the scratching cut-off as the button is not available after this) .
A current AusCycling All-Discipline or Off-Road license is required to ride these events (or a Cycling Australia / MTBA equivalent), primarily for insurance purposes. Bring your license card / digital membership with you to sign-on. https://insideline.com.au/get-involved/
---
RACE CATEGORIES
Elite Men, Women and U19 categories have both a seeding run and race run on the Sunday.
All other categories have one race run only
Novice: Your first race is free if you enter in novice, however you will not get any points for the overall series when you move into your actual age category at the following race.
Categories are restricted by age and goes by the age you will be on 31 December of the current year. So if you are turning 17 during the 2021 year, you will have to race the under 19 category.
1st, 2nd and 3rd Podium Places are awarded for all grades
Full list of categories here: https://insideline.com.au/details/#30
Note: AusCycling insurance may assign you a different age category to our age categories. Ours are correct!
---
RACE SCHEDULE
When you arrive, please come to the caravan to get your name checked off and pick up your season race plate(s).
Rego
Registration Close
Thursday 9pm before the event
Saturday Practice
Guided track walk with Head for the Hills
8:30am (at caravan)
Caravan check in open
9:15am
Practice / Shuttles
10:00am to 4.00am
Sunday Race day
Practice / Shuttles
8:30am to 10.30am
Mandatory Race Briefing
11.00am
Race Begins
(Categories separated by 30 second gaps)
11:00am
Presentation
Normally between 3.00pm to 4.00pm
---
SERIES DATES
7 x Races held on the follow dates and locations
Ride day: 28 March 2021 - Kersbrook
Round 1: 17/18 of April 2021 - Kersbrook - Multi Gaps (With B Line for the gap!)
Round 2: 15/16 May 2021 - Willunga - Kite
Round 3: 19/20 June 2021 - Fox Creek - Patto's
Round 4: 17/18 July 2021 - Eagle - The Mixer v1
Round 5: 14/15 August 2021 - Fox Creek - Long
State Champs: 11/12/ September 2021 - Eagle - The Mixer v2
Round 6: 2/3 October 2021 - Mount Gambier - Wheel Nutz
---
CONTACT
Fiona & Karen 0447 180 175
Email insidelinemtb@gmail.com
---
COVID-19 Notice
We are taking COVID-19 restrictions seriously.
By entering this event, you agree to the following:
you will not attend if you have flu-like symptoms within 14 days of the event
you will social distance and observe COVID hygiene practices
you will follow all safety guidelines and directions of the event promoter
Refunds: If we need to cancel for any reason, all riders will be given a 100% refund. We'll make every effort to notify riders the event is cancelled. If in doubt, please check this race listing for a notice.