This will be checked at entrance so please complete before arriving where mobile reception could be poor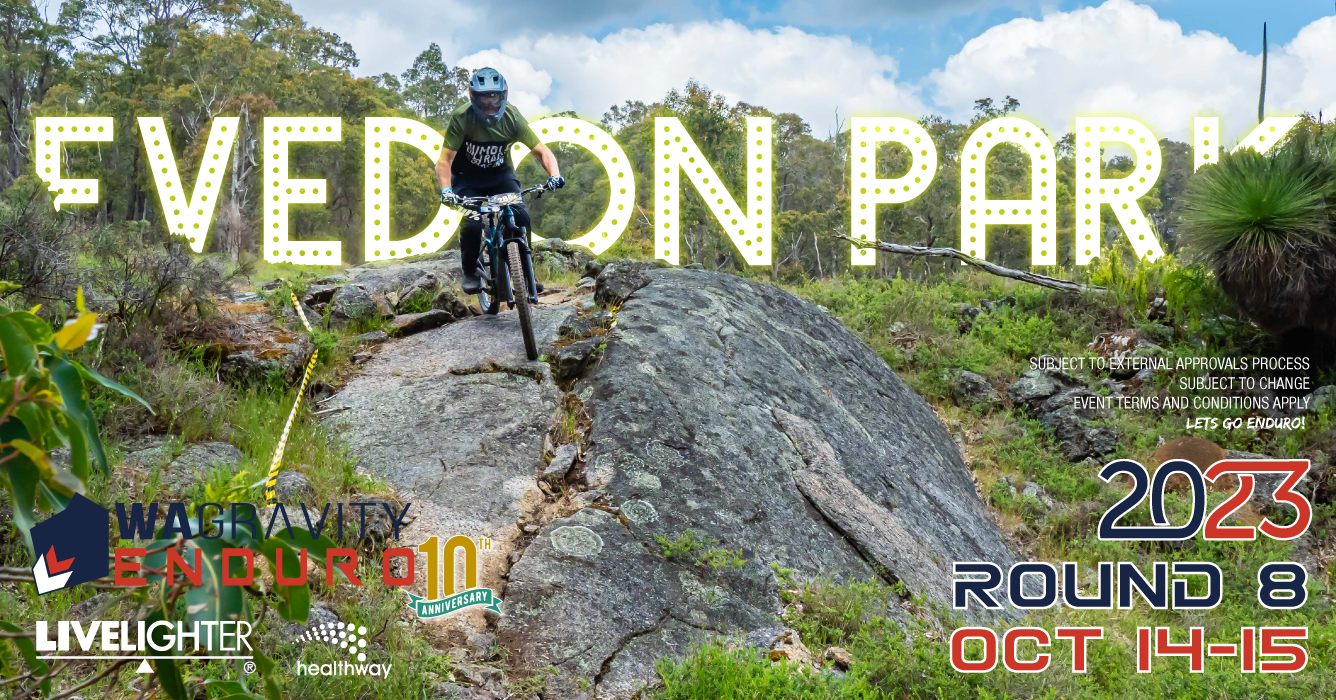 All competitors must have a fullface helmet DURING PRACTISE AND RACING.
All competitors under 17 years of age MUST wear gloves, knee pads and elbow pads DURING PRACTISE AND RACING.
No gear, no ride, no refund.
Auscycling Insurance is Mandatory. Are you new to racing? Be sure to checkout www.wagravityenduro.org/how-to-enter

---
Event Information
$750 in cash prizes for our Men and Women Full Enduro 19+ competitors


$2,500 in WA Gravity Enduro gift vouchers to be won for podium placers, plus other delicious prizes and medals


Certificates for our Whippet Competitors


Bunted and signposted course, with amazing course marshals looking after you


Access to St John Medical Services, toilets, water stations and the best Enduro Timing System in the world


Pumpin' race village with sponsors, servicing, merchandise and more


Limited supply of free, fresh fruit available at Race Village thanks to LiveLighter - tag @livelightercampaign and @wagravityenduro to share your healthy food, drink and meal choices.
---
Auscycling Insurance is Mandatory
WA Gravity Enduro events are sanctioned through Auscycling, Australia's peak cycling body. All riders on course (competitors and shadow riders) are therefore required to have Auscycling Insurance.
Auscycling offers a number of Insurance Options

If you are not affiliated with a Club, please enter 'Western Trails Alliance Inc' when requested during Auscycling Insurance signup. It is free and shows support for local trail builders.

---
Entry Categories & Race Fees
A massive 27 race categories available plus participation categories!
Pricing from $40 to $85 (including GST) depending on category.

Men/Women U9 (Whippets)
Men/Women U11 (Whippets)
Men/Women U13 (Whippets)
Men/Women U15
Men/Women U17
Men/Women U19
Men/Women 19 - 29 (Warriors)
Men/Women 30 - 39 (Warriors)
Men/Women 40 - 49 (Masters)
Women 50+ (Super Masters)
Men 50 - 59 (Super Masters)
Men 60+ (Grand Masters)
Men/Women (Full Enduro 19+)
Men/Women eBike U40
Men/Women eBike 40+

Participation
Men Welcome
Women Welcome
Shadow

Shadow Riders are non-compulsory parent/guardian following a junior competitor on the trail. Due to popularity and for event management purposes, please enter Shadow Riders in to the event through Entryboss ($10). Shadow Riders can hold the Auscycling Lifestyle License as they are non-competitors.
---
Entry Schedule
Entries are currently open for this event.
Entries may sell-out at anytime, so enter early to avoid disappointment.
Entry fees cover services across two days (Saturday and Sunday) including course setup, medical services, practise and racing.

Optional extra's cut-off Tuesday midnight before the event. You must enter before Tuesday midnight to secure your custom raceplate or reprint.

Entered and can't make it, feel unwell or something else? Use the Scratch button in EntryBoss for an automated refund before Monday 9am before the event.
Once you scratch, you will need the help of WA Gravity Enduro if you need to re-enter.
Failure to bring/use your mandatory safety equipment does not warrant a refund. No gear, no ride, no refund.

---
2023 Series Dates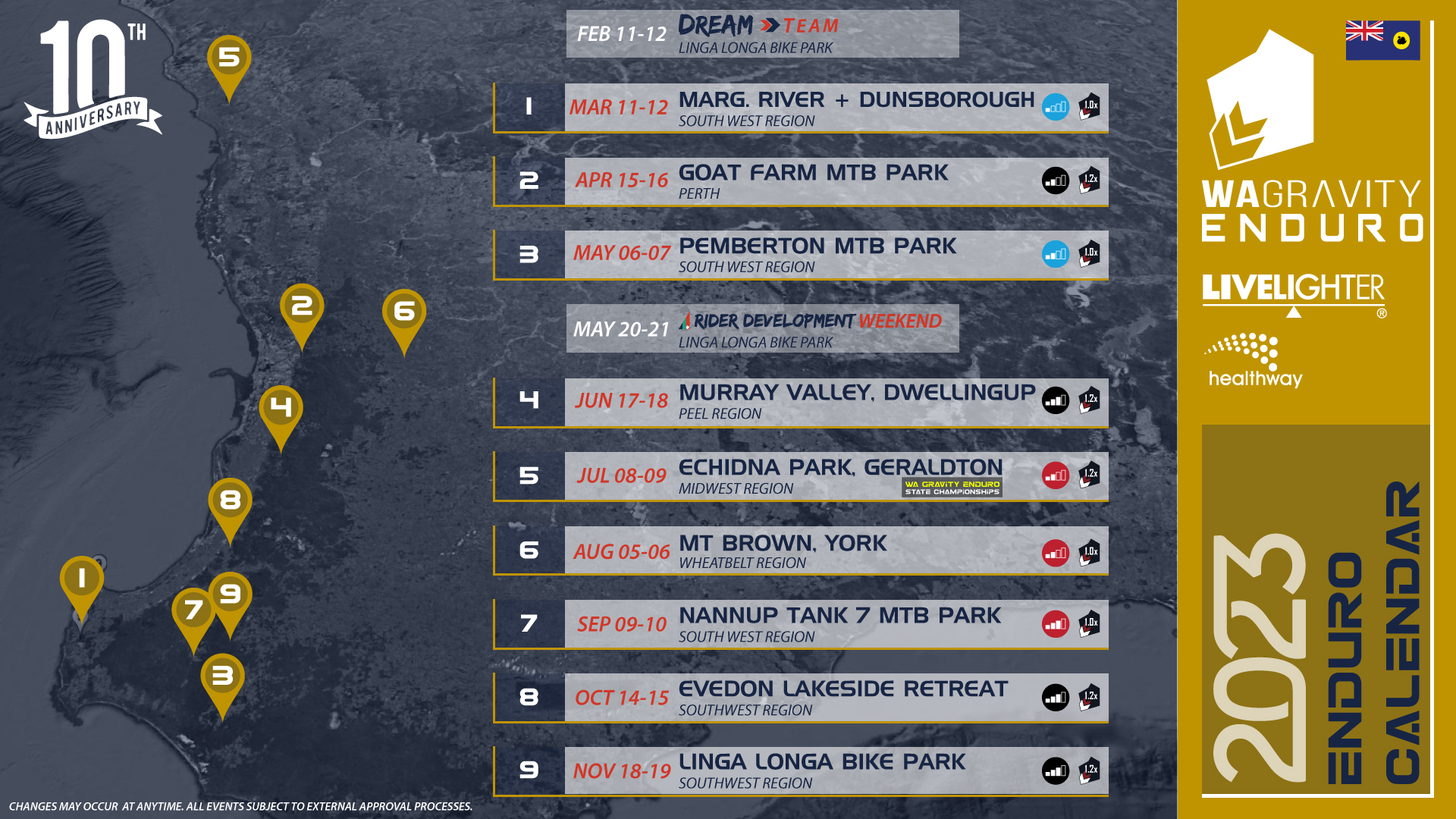 On the hunt for WA's best Mountain Bikers, we head to as many locations as possible to provide the best opportunities for everyone to participate. We work with local Clubs and Government representatives to prioritise safety without compromising on racing excitement.

WA Gravity Enduro donates to local trail custodians, works with local businesses, promotes tourism opportunities, engages with State and Local Governments, private landowners and Cycling Bodies to discover, develop and promote Mountain Biking opportunities in WA.

---
Be part of the WAGE Crew!
Are you a parent or spectator or a competitor and would like to help out? Our events can only be as good as our team!
Chat with us claire@wagravityenduro.org to discuss assistance options and we will happily provide you with race discounts or free entries depending on role, experience.
---
More Info
f facebook.com/wagravityenduro
i instagram.com/wagravityenduro
---
COVID-19 Notice
By entering this event, you agree to not attend if you have COVID-like symptoms or return a recent COVID-positive test. Please keep your family, friends and our community as safe as possible.


Let's Go Enduro!