Date

Sat, 4 Feb 2023

Course

Entries open

Fri, 16 Dec 2022 12:00 AM AEDT

Entries close

Thu, 02 Feb 2023 9:59 AM AEDT

Pay online by

Fri, 03 Feb 2023 11:59 PM AEDT
---
Note we are at capacity. Please reach out if you would like to enter and you will placed on the waiting list. Entries for waiting list are now closing Wednesday 1st of Feb 2023 11.59pm.
2023 BBN Summer Sprint GP
One Round only
Saturday the 4th of February 2023
Open from 5.30pm - F200s start at 6.30pm
At DISC Velodrome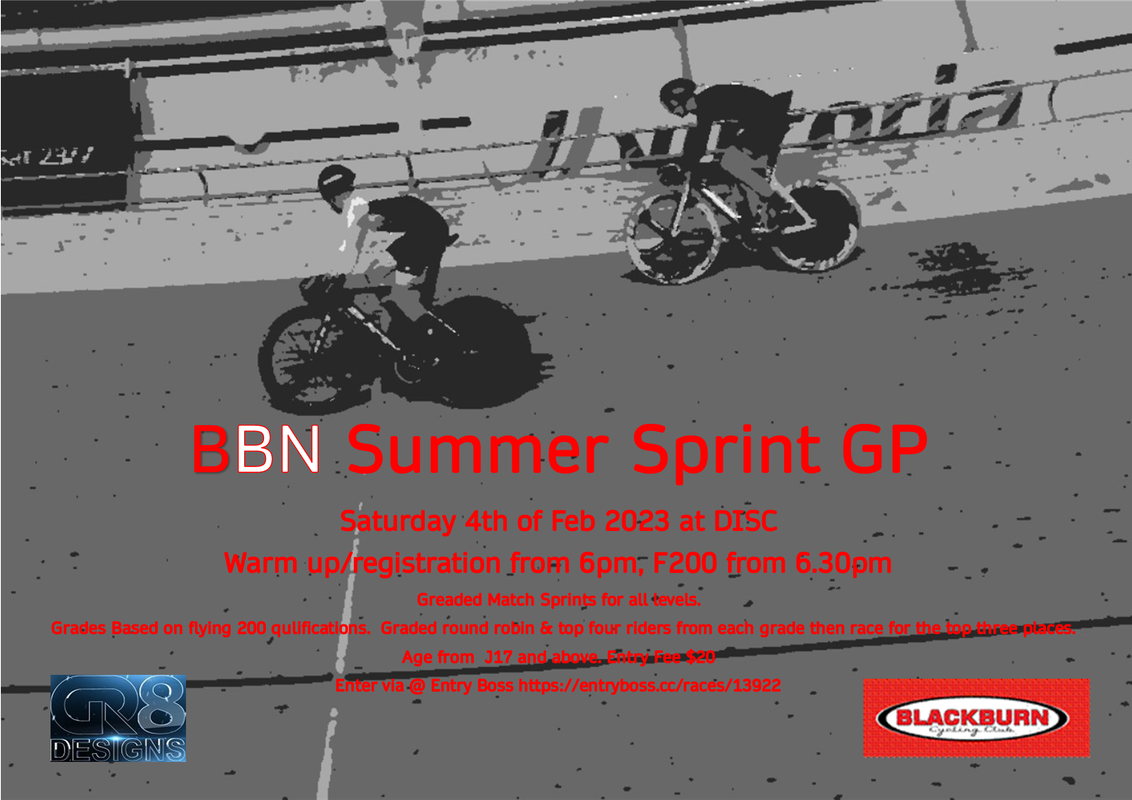 About
Proudly presented by Blackburn Cycling Cub
This One off Summer Sprint GP is graded match sprint series, if there are sufficient numbers of riders we typically run 5 grades on each day. Riders qualify at first with flying 200s and are then split into grades where there will be a round robin or partial round robin to determine the top four riders from each grade, who then race for the top three places. (2023 Winter Sprint Series will be a series)
Format
Graded Match Sprints based on Flying 200 qualification. For Riders of ALL levels and of ages JM17, JW17, JM19, JW19, Elite, Masters.
Prizes awarded from the sponsors
Registration from 6pm Racing from 6.30pm
Eligible Categories
All CA licences riders graded from J17 Male & Female upwards
Entry
All categories: $20 per entry + 30c payment card fee.
Field will be capped at 36 entries. Entry cut off is the Saturday night before the event.
Start List and Results
Check https://sprintseries.racing/ for order of F200 qualifying one day before the event.
Sponsors
GR8 Designs http://gr8designs.com.au
Contact Information
Blackburn Cycling Club Facebook page
Summer Sprint Series Facebook page Sunday Night Sprint Group at DISC Sean Cleary sean.cleary@ingrammicro.com
Covid update
• To compete we must follow current Covid Restriction guide lines.